Fish
Steamed FIsh
1350
Okra, Carrot, Chocho, Herbs & Spices
Roast Fish
1350
Fillet is per serving, whole is per LB
Brown Stew Fish
1350
Okra, Carrot, Chocho, Herbs & Spices
Shrimp
Shrimp in Beer-batter
1800
Coconut Rundown Shrimp
1800
Vegetarian
Curry Vegetable
1200
Freshly cut vegetables simmered in a rich & spicy sauce
Assorted Vegetables in Coconut Sauce
1200
Freshly cut vegetables simmered in coconut sauce
Lobster
Garlic/Curry Lobster
3000
Grilled/Deep Fried Lobster
3000
Seafood Platter
3500
Shrimp, Lobster, Fish
Seafood Lasagna
2500
Chunks of shrimp, conch, lobster, butterfish baked with fresh vegetables, cheddar cheese, mozzarella cheese
Lobster in Cream Sauce
3000
Chunks of lobster simmered in rich cream sauce
Lobster Pasta
3000
Chunks of lobster simmered in a rich cream sauce with pasta strings
Lobster season closed between April 1 - June 30.
Conch
Octopus
1600
Grilled, Curry
Conch is currently under a 1 year ban.
Salmon
Salmon
2500
Grilled to perfection with vegetables and our signature sauce
Chicken
Jerk Chicken
650
Rice & Peas
Beef
Grilled Steak
1LB grilled to perfection with fresh veggies
Sides
Ripe/Green Plantain
250
3 per serving
Festival
250
3 per serving
PRICES DO NOT INCLUDE GCT (16.5%). 10% SERVICE CHARGE WILL BE ADDED TO ALL DINE-IN CHECKS.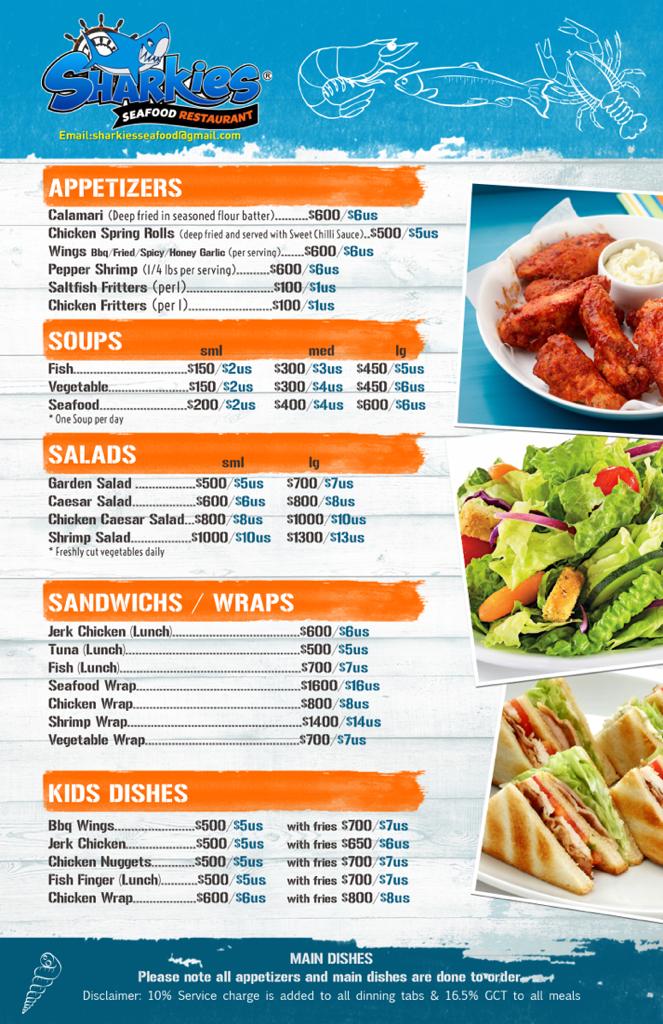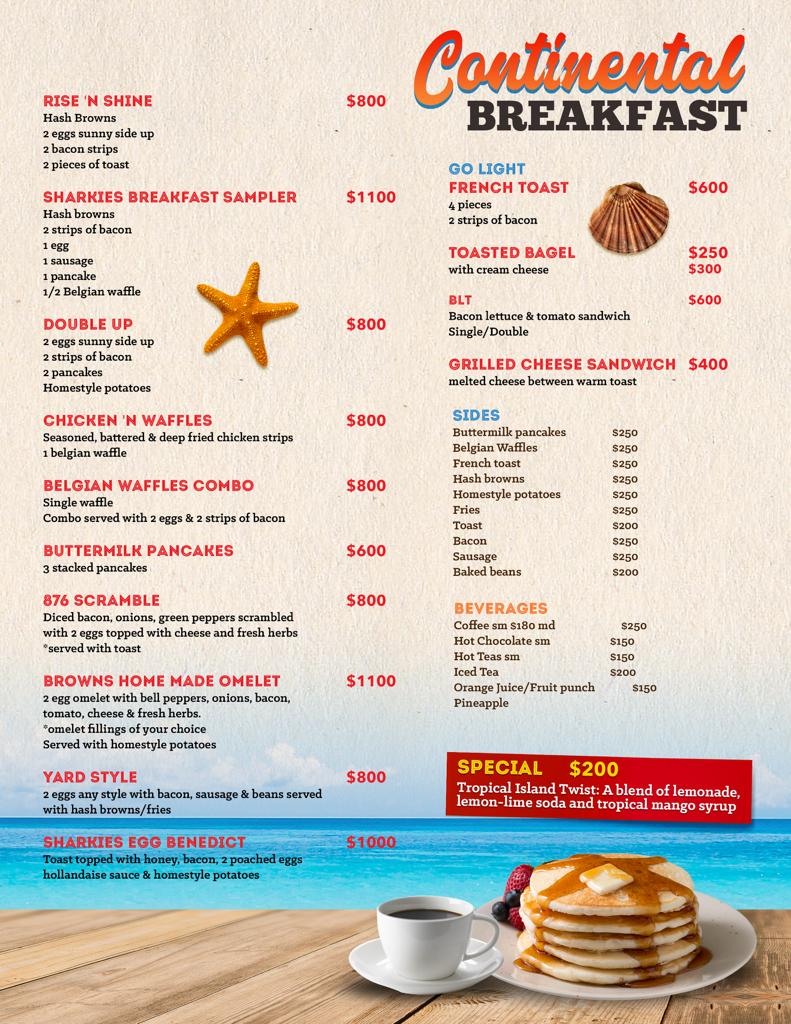 Customized Cakes
Sharkies also specialize in professional high quality customized cakes for any event.
Let us cater for your next birthday, anniversary or baby shower.
Cocktail
Martini Cocktail
600
Gin, Vodka, Dry Vermouth
Martini
600
Gin, Vodka, Dry Vermouth, Sweet Verymouth
Sex on the beach
600
Peach, Schnoops, Vodka, Coconut Rum, Pineapple/Cranberry/Orange Juice
Rum punch
600
White rum overproof, Appleton special, Myer's dark rum, Orange juice, Pineapple juice, Lime juice, Grenadine
Miami Vibes
600
Strawberry mix, Pina Calada mix, Rum
Naked Lady
600
Campari, Pineapple juice
Blue bird
600
Blue Curaco, Vodka, Pineapple juice
Purple Rain
600
Appleton Special, Blue Curaco, Pineapple Juice, Grenadine
Cape Cod
600
Vodka, Cranberry Juice
Margarita
600
Tequila, Triple Sec, Sour Mix
Shark Bite
600
Overproof Rum, Light Rum, Triple Sec, Pineapple Juice, Orange Juice, Lime Juice, Strawberry syrup
Sharkies Delight
600
Gold Rum, Apricot Brandy, Pineapple Juice, Orange Juice, Lime Juice, Strawberry Syrup
Sharkies Clipper
600
Appleton Special, Orange Juice, Soda Water, Amaretto
Bloody Mary
600
Tomato Juice, A1 Sauce, Bitters, Hot pepper, vodka
Apple Martini
700
Apple Vodka, Sour Apple, Triple Sec
Daiquiri
G Spot
800
Milk, Baileys, Armaretto, Vanilla Vodka
Blended Fruit punch
800
Strawberry Mix, Banana, Papaya, Pineapple
Pina Colada
800
Pina Colada, Coconut Rum, Pineapple juice
Mud Slide
800
Vodka, Tia Maria, Bailey's Irish Cream
Dirty Banana
800
Appleton Rum, Banana, Milk, Clear Syrup
Strawberry Splash
800
Strawberry Mix, Appleton Special, Banana
Humming Bird
800
Tia Maria, Banana, Rum Cream, Milk or Cream, Grenadine
Blue Hawaiian
800
Pina Colada Mix, Blue Curacao, Coconut Rum
Bob Marley
800
Mango, Strawberry, Blue Curacao
Wines
Ask your server about our wine choices